HOW DO I KNOW I'M GETTING GOOD VALUE?
Quite simply, we're not like any other printer you've ever dealt with. Our centralised Production Hub is ultra-efficient. It produces massive economies of scale, simply not available on the high street. This means we can pass the savings directly on to you in the form of low prices. It's really simple, yet incredibly effective.
HOW LOW ARE YOUR PRICES?
Low. Really low. In fact, as much as 77% less than the industry average.
SAVING YOU MONEY MAKES US FEEL GREAT.
We're constantly monitoring our competitors just to make sure we stay ahead of the game. Independent consultants Storecheckers have performed a price survey of printers throughout the UK. We thought we'd share the results with you. We're nice
like that.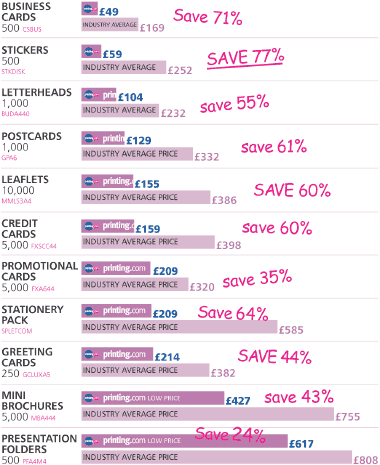 HOW QUICKLY CAN I HAVE MY PRINTING?
As quickly as you need it! Same day if you're in a real rush. Heres how it works...
WE MAKE IT EASY TO PLAN YOUR promotions.
Just look for the logo beside the item you're interested in - that's its guaranteed turnaround. Approve your artwork by 3pm and your order will be available for collection
3
,
5
,
7
or
10
working days later. For instance, a
3
day turnaround means approve Monday, collect Thursday.
5
working days: approve Monday, pick up the following Monday, and so on. If you're supplying artwork on disk, please give us up to 24 hours to check it.
WE KEEP OUR PROMISES. YOU'VE TOLD
us it's important to you. We agree. That's why every item in this buying guide now has
guaranteed
turnaround. If we fail to despatch to you on time, we'll give you a print credit to the full value of your order. We're pretty sure of ourselves mind you - in the past six months, we've despatched 99.8% of all orders on time, or early.
GET YOUR PRINTING EVEN QUICKER
with our
Xpress
Service. You've got the power to make us work even quicker - on everything in this guide.
How much quicker?
10
working days
> 5
working days;
7
working days
> 4
working days;
5
working days
> 3
working days;
3
working days
> 2
working days. Since our low prices require us to work ultraefficiently, Xpressing your job usually means that we rack up lots of extra costs. To help contribute to these costs, we charge you a premium of 100% over the print price. It's only fair...
WE'LL STOP OUR PRESSES AND PRINT
your order the very same day with our seat-of-thepants
SOS Same-day
Service. Many items like leaflets, business cards and posters are available with same day turnaround... guaranteed, to get you out of the proverbial. Just approve your artwork by 10am, and you can pick up from our Manchester Production Hub that night, or we'll despatch overnight directly to you. Just add 200%. Look for the SOS logo. Then you can wipe your brow.
Part of the reason we can keep our prices so low is that we print every order to a 'pleasing' colour standard. That means that your order may not look exactly the same as something you've had printed before. With our brand new £1million presses, it's likely to look a lot better.
CAN YOU HELP ME WITH DESIGN?
Sure thing. We can create stunning artwork for you and help with all the creative stuff if you need us to. The concept, the copy, the layout, sourcing the photography - it's all in a day's work to us.
CAN I DESIGN MYSELF?
Of course. IF YOU WANT TO DESIGN YOUR JOB YOURSELF, DOWNLOAD A COPY OF OUR 'DIRECT from Disk Guide' before you start though -
our process is different to everyone else's
. Setting up a file for print is a complicated thing though. We want to make sure you don't screw up and end up having to bin your print. Our low-cost
Handholding Service
is your guarantee that your file will print right, first time. And once you've correctly supplied a few files the printing.com way, we may even let you become a 'Disk Risker' - see the 'Direct from Disk Guide' for the full story. You can download it from
www.custardcreative.co.uk/pdcdownloads
.